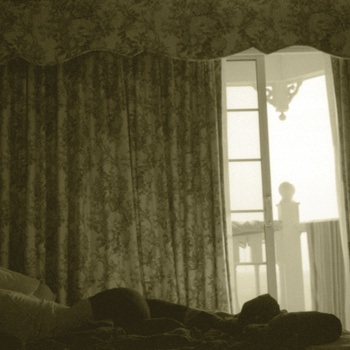 Huge fan of the Baltimore based band Small Sur at Slowcoustic HQ, and hearing a couple of months back about the new album, Tones, I was very excited.  After listening for a little bit now and it finding a release on this very Tuesday, I have to say that this is one of the best albums of the year my friends.
Tones, a title taken from the song from the previous full length album We Live In Houses Made of Wood, is a perfect title for a Small Sur album and this one in particular.  The music created by Bob Keal with the help of Austin Stahl and Andy Abelow is layered, melodic and constantly unfolding.  You will hear new sounds melding into each other almost each time you hear it – headphones really bring this album alive.   While the album is definitely a slower affair, it is almost thick…what I mean is you simply dip a toe in and it encompasses any part of you and you want to just be inside it.  Outside of bizarre images you may be dreaming up in your head, know that the album is one that you truly fall into – it might be the incredible amount of instrumentation used on Tones that really kicks it up a notch.  The album is at its heart an acoustic project, but it is also soo much more – there are layers of strings, wind instruments and Keal's ever present warming vocals to hold it all together.
Songs like 'The Woods' are absolutely stunning – backing "woos" and the molasses slow tempo almost makes you start swaying immediately.  Whether you think the woods are actual woods or your one true love – the song fits the sentiment and starts to fuse with you from the first lamented lyric.  Truly one of the better stand alone songs of 2011 in my opinion.

Another song I wanted to feature is the track written for Bob Keal's home state of South Dakota – an homage to the rural life and the past that is in all of us.  What I think is an Oboe fits the bill so perfectly – not an instrument that one automatically thinks of, but the waning, aching tones creates the longing we might feel for 'home'.

I can't recommend this album enough.  Hell, I can't recommend the previous EP "Bare Black" and the amazing "We Live In Houses Made of Wood" which holds one of my all time favourite songs, The Kelp.   Whether you are feeling blue and needed an album to be there with you or whether you simply feel like listening to an album that you can really connect to, this one is it.  Please swing by the Small Sur Bandcamp page HERE to pick up a copy of the album today!
You can follow Small Sur on Facebook and Twitter if you wish as well.  When you get a chance, visit their Tumblr page for all things Small Sur like videos, info and updates.
Also, don't miss the upcoming shows as the crew are currently on tour in the NE of the US!  Dates are all HERE.  Shows include Slowcoustic friends, Conrad Plymouth, The Singleman Affair, Annie Palmer and Micah Blue Smaldone.  Damn, these guys know who to play with – always a great collection of folks at the shows.
There you have it, best new music – Small Sur, "Tones".
~Smansmith