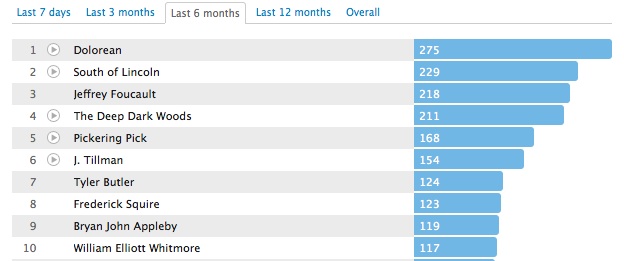 Thought I would post on my top LAST.FM artists of the last 6 months for your perusal and judgment.  While not completely accurate of my listening as there is still my listening to music non-stop during my commute to work (2 hours daily) and my sad basement day job that don't get scrobbled to Last.fm for these charts.  Overall I feel they reflect what I am listening to, but some artists may be up or down a spot or two.  Let's get on with it!
~Slowcoustic's Last 6 months of top artists playlist~
1.) Dolorean
Listen: Ghost of David (Damien Jurado Cover)
2.) South of Lincoln

3.) Jeffrey Foucault
Listen: Goners Most
4.) The Deep Dark Woods
Listen: West Side Street
5.) Pickering Pick
Listen: Like a River
6.) J. Tillman
Listen: Three Sisters
7.) Tyler Butler
Listen: Morana
8.) Frederick Squire
Listen: All Things Past Serve to Guide You on Your Way
10.) William Elliott Whitmore
Listen: Old Devils
~~~
There you have it, what I have been listening to the most in the last 6 months.  What about you?
~Smansmith