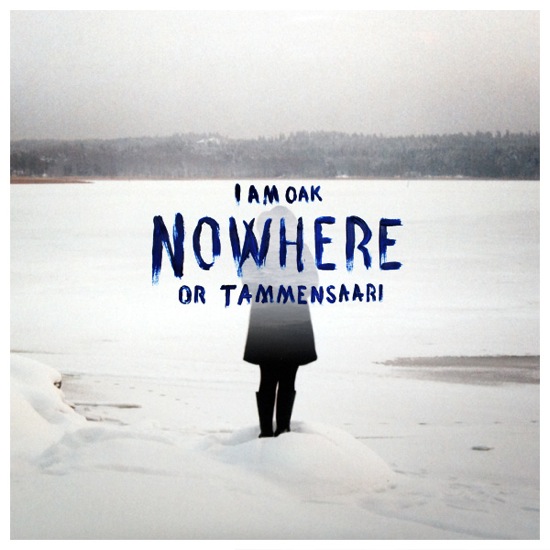 I always find myself the same way when I listen to I Am Oak.  Almost exclusively, each time I listen to an album I think the same thing: "What do you call this style of music?".  Then I just get over it and listen and truly enjoy it.  But seriously…is it folk?  No, don't worry about it….okay, tell me, is it?
The new album is called 'Nowhere or Tammensaari' which is English and Finnish (from this Dutch singer) which translates to "Nowhere or Island of Oaks".  The driving force of I Am Oak is Thijs Kuijken and he has once again created a fantastic journey of an album.  Regardless of not being able to truly call it folk for a style, I know that 'folk' is in there but alongside something else…and it is hard to nail it down to a specific word.  I fear his official style would incur a lot of dashes in the form of folk-indie-downtempo-ambient, etc.
Regardless of the struggle on defining what I hear in this music, the new album has the combination of all things I Am Oak.  The signature pining vocals of Kuijken.  The haunting piano moments.  Excellent straight forward acoustic accents.   Then almost like it purposely slips in behind you and grabs you firmly; the full immersion in power chords on electric guitar.  And it works.  Well.
Okay, we established that I like the album but I need you all on board with the music from I Am Oak.  Listen to a song like 'Grown' and think that you know the style.
Now 'Grown'  is slightly gothic with that guitar/bass line but it holds back from the dark abyss with almost campfire chants joining in.  Then the guitar comes in around 2 minutes in and you expect to aurally see the part in the movie where the hero finally strikes down his enemy.  All in slow motion.
Now, listen to a song like 'Boulders' and you get a more folk influenced band.  Finger picked acoustics and a song you can warm to immediately.
See what happened here?  It isn't a 180 degree on his music but it brings an additional facet to the album.   Okay, how about the song 'Roam' with it's achingly slow cadence only begging the listener to literally want to roam deep inside the acoustics (think headphones while walking just prior to dusk).
Then you get the final track 'Everything in Waves' to close out the album and it brings the entire thing together and is probably the best example of the album reduced to a song.  The slow start to the song, the layering of vocals, the guitar (yes, electric guitar!).  The building of a song in pure form.  When it finally gets to about a minute and a half left, there is a fully a capella moment with just the stomping of feet and at that moment you are part of I Am Oak.  Highly recommended.
Best New Music.
You can find more I Am Oak on the band Website or via the label Snowstar Records and listen/purchase on their Bandcamp Page (nicely packaged in CD & vinyl as well, but you might have to live in Europe to afford the shipping due to current shipping terms in the EU/Netherlands!).
Do yourself a favour and just listen.
~Smansmith