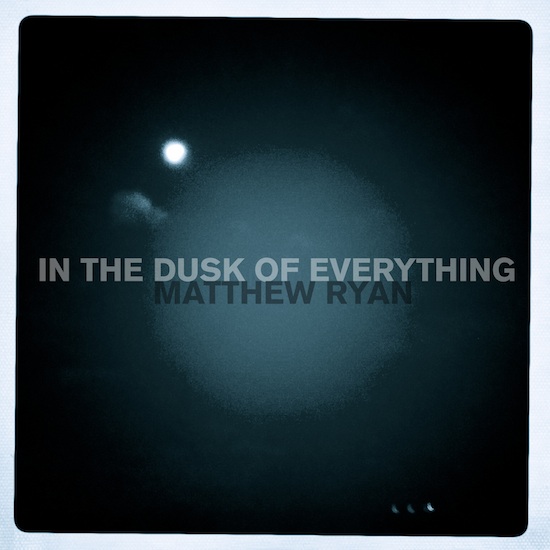 Today we have a special treat for you readers of the blog.  Today we get the premiere of the first 'single' from Matthew Ryan's upcoming album!  The song is called She's A Sparrow from the album In The Dusk Of Everything – due out October 30th direct from Ryan (and all your favourite e-tailers).
When Ryan approached me to take a listen to his upcoming album and then suggested we premiere the first song – I have to say I was a but humbled and excited all at once.  After listening to this entity known as Matthew Ryan for years, he has naturally become a favourite artist of mine.  This came to be mostly due to his signature gritty vocals that just happen to hit the spot with his brand of 'Alt-Country'.  I have said it before and I will say it again, he is one of the best voices in the genre easily.
She's A Sparrow is an almost fully acoustic affair with flecks of cello and haunting keyboards floating in the distance.  The lyrics tell of love sliding out from view, letting go and coming to grips with it all.  As are often the ingredients of a lament put to music – Ryan mixes it just right…it is possibly more of a reflective or pensive vignette than just a sad, teary-eyed ballad.  Oh, and did I mention it is stunning?  To his own admission the this song along with the remaining album songs have formed a "mood record" and "…a folk record for the most part" but I also don't want you to think of just 'the guy and a guitar' image – there is an almost cinematic texture to these songs at times.
The Premiere: She's A Sparrow is but one chapter of what Ryan will be putting out very soon.
Beauty, no?  (You can click over to YouTube for the video and see the full lyrics and the track credits.)
If you enjoy this song, you will be hard pressed to not let In The Dusk Of Everything become part of you.  I will leave this post right here and not wax poetically on the merits of this song and upcoming album because there will be more posts here on Slowcoustic once the album starts to be released a bit more in the coming weeks.  But know this, my Best New Music & Best of 2012 categories are getting warmed up for October 30th, 2012…
Find more on Matthew Ryan: Website | Facebook | Twitter
Purchase via: iTunes | Amazon | Matthew Ryan Webstore
~Smansmith