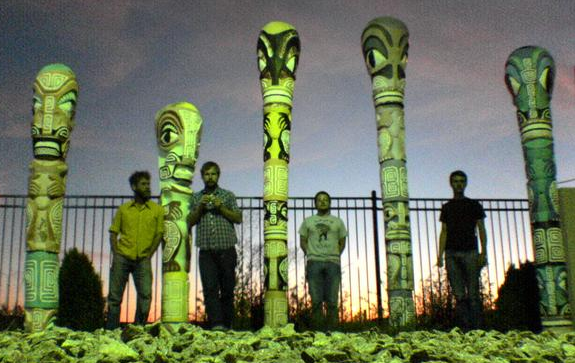 In more ways than one this post is not "new".  I have decided not to do my weekly post "New on the 'nets" this Saturday as I am working on a "10 things that WON'T be on my Best of 2008 list" post in it's place and this band is not my discovery in any way.  In saying that, I was going to mention in my short insight to happenings on various blogs this week about the band Theodore that my good friend over at das klienicum had posted on.  If you are up on your German, you can check the post here.  I can't recommend visiting das klienicum enough, there is constantly great selections, including this one – I will always find something completely new to me that is a must have!  Also, don't miss out in the upcoming couple of weeks – das klienicum (among others) will be gracing the very pages of Slowcoustic with a "Best of 2008" list to share – so there, you got your warning.
…and back to the band, I have to honestly say I hadn't heard of Theodore previously and I am quite taken with them at this point.  They have that hazy, slide guitar country ballad feel.  This stuff is always a killer for me as I just can't resist it.  It makes me want to have heartache just to just stumble over and crawl inside the atmosphere it emanates.  I definitely plan on listening some more and picking up an album (and the new one when it is finished in the new year).  They are now on Undertow Music which already has a stellar line up including many all time favourites so this must be a good thing.
Visit Theodore on their Webpage to pick up an album and see/hear a bit more of them on MySpace.
Oh, and a reason I know this band is the shit…they cover Damien Jurado.  Bad ass.  The cover is actually Justin Kinkel-Schuster (lead singer for Theodore) on a recent solo performance, but still bad ass.
~Smansmith