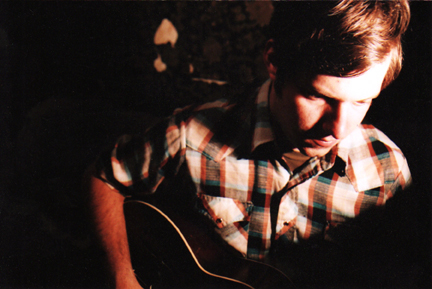 So I have been playing around with the idea of having a "Slowcoustic Essentials" for a while now.  Why?  Well, since "Slowcoustic" isn't a real word, it is just something I have been using for the past few years to describe the music I like.  Basically, there is no real true definition other than it is music that tends to be a bit more down-tempo and can usually be created/re-created with just a vocalist and a guitar (but not exclusively).
What better way to start to turn you all into believers of the word Slowcoustic, then to provide my examples of what I consider it to be.  I just happened to actually start to do it today and will continue on in the many upcoming months with more examples of this incredible genre of music.
First installment – Chris Bathgate.  While he may not be my immediate "go to" musician for my made up genre, he is an phenomenal artist that I consider one of my all time favourites.  From what I know of Bathgate, he is a native of Illinois, but really considers Michigan his home base.  His discography contains a new release each year for the previous few years and all are worthy of purchase in physical media (the true test these days if you appreciate an artist, imho).  From his Wiki page, there is only one album I am not truly familiar with and it is his first and prior to me ever hearing him, it is something I am hunting down.
I do believe his sound is progressing, but it doesn't need to go too far as his sound is rich, encompassing and something I always gravitate to.  Whether it is "The 44's" from "Silence is for Suckers" or "Buffalo Girl" from "Throatsleep" or from his newest EP "Wait, Skeleton" and the track "Yes, I'm Cold".  He brings songs with acoustic beauty, often with a banjo (my favourite) and each song is one you find yourself wanting to join in with the band and sing along to.  While he has been a regular around the Ann Arbor and Ypsilanti area for a while, he has moved to touring nationally in the last few years and I believe is someone everyone will be hearing a lot more of (no pun intended).
Enjoy some great label approved tracks (found via the good folks at IODA again) and you need to listen, download and run off to pick up a copy of his discography;
Create and Consume (2003) – post in the comments with info on this one!
Silence Is For Suckers (2005)
The Single Road I Longed For (2006)
Throatsleep (2006)
A Detailed Account of Three Dreams EP (2006)
A Cork Tale Wake (2007)
Auld Lang Syne (single) (2007)
Wait, Skeleton EP (2008)
The Ashville Squints (split with Hezekiah Jones) (2008)
Now try and tell me you don't want to scour the internet for everything you can find!  Enjoy the below, visit him on his Website, his MySpace and his Quite Scientific page.
There will be more Slowcoustic Essentials in the series soon, so keep an eye out!
~Smansmith

Chris Bathgate

"buffalo girl" (mp3)
from "throatsleep"
(Quite Scientific Records)
Chris Bathgate

"I know how you are going to die tonight." (mp3)from "throatsleep"
(Quite Scientific Records)
Chris Bathgate

"little bird in coffin come" (mp3)
from "throatsleep"
(Quite Scientific Records)
More On This Album
Chris Bathgate

"Serpentine" (mp3)
from "a cork tale wake"
(Quite Scientific Records)
Chris Bathgate

"the last parade on Ann St." (mp3)
from "a cork tale wake"
(Quite Scientific Records)
Chris Bathgate

"every wall you own" (mp3)
from "a cork tale wake"
(Quite Scientific Records)
More On This Album
Chris Bathgate

"Yes I'm Cold" (mp3)
from "Wait, Skeleton."
(Quite Scientific Records)
More On This Album