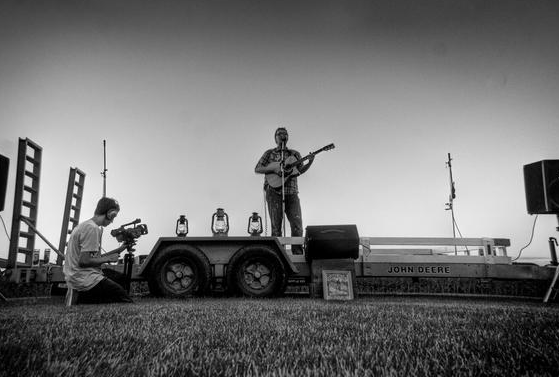 The photo above features Matt Jones.  Matt Jones is more or less new to me.  The fact that the trailer in the photo above is made by John Deere is not lost on me.  Michigan isn't just the city of Detroit.  Michigan is as vast as it's songwriter talent pool is deep.  This fact says something and it is not lost on me…I just may be packing my bags as I type this.
I have to admit that I wasn't totally aware of Matt Jones work prior to a month or so ago.  Led to him from suggestions from you.  Yes, you the readers of this blog.  I had a post on Chris Bathgate in which a comment was made by "Brandon" to check out some more of the great artists and bands from "The Mitten" (look it up).  I have to say thank you to Brandon.
Matt Jones was top of the recommended listening list from Brandon and for good reason.  Matt Jones is one of those great singer songwriters that have chops.  He has a unique vocal delivery that would make you think of a toned down Tom Brosseau.  I am sure he gets this comparison often, but I believe this is an "at a glance" observation, as his voice is his own and in combination of great lyrics and atmospheric folk – he definitely is his own persona.  He also comes off as unpretentious but still protective of his craft – this I like.  I mean in this new era of seeing a guy with a guitar on every blog, you have to wade through to find the talent.  Wade no further.
New Album Alert: You will find aching ballads, almost folk-pop and straight down the pipe singer-songwriter tracks from Jones in his digitally released/upcoming CD Release "The Black Path".  The new album is 11 tracks and is a gorgeous display of his talent.  Stand outs include "Missing Vein" (included below), "One Cotton Shot Short" and "Jugulars Bones and Blisters".  You can always pick up a copy of the new album on iTunes and on eMusic, but let's not forget the actual CD RELEASE SHOW in Ypsilanti on February 7th.  Check below for a couple of warm ups to the big day listed from his MySpace page;
There you have it, you readers recommend to me, I in turn take the recommendation and give it right back to you!  Now go and enjoy some Matt Jones and be sure to make it to "The Mitten" (there it is again…look it up) to catch the release show in a few weeks – it should be a good one!
Visit Matt Jones (you won't regret it) on:  MySpace and my other blogging home – You Crazy Dreamers for an interview and more music!
~Smansmith