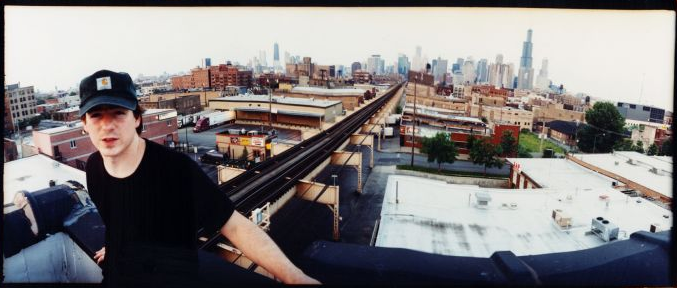 Jason Molina.  The man of many faces (or identities at least) in the realm of what many might call "indie" music.  He just might be the "essential of essentials" for the type of music I love.  Whether he is Magnolia Electric Co., Songs: Ohia or even just Jason Molina…this guy should be a staple in everyone's library.
While you might not immediately latch on to Molina's vocals and possibly find yourself a bit lost on where to start if you are new to him – keep listening and keep it to Songs: Ohia and you will be fine.  Of Jason Molina's identities, I believe Songs: Ohia is the pinnacle of woozy, pained songwriting.  It tends to never be "fields of flowers and puppy dogs", but if it was, would you be here right now??  Not that all down-tempo music needs to be about loss, finding yourself and discovering what you thought was true actually isn't…it sure helps!
This Ohio native (what, you didn't guess this yet?) started out in Cleveland in a few metal bands (!!) and eventually moved to his solo persona and officially started recording in 1996 as Songs: Ohia.  He has recorded numerous albums and such since then which is reflected in his release library.  When I say the library of music and projects for Jason Molina is large, the Wikipedia page for him shows just how vast it actually is.  Again, I am partial to his Songs: Ohia stuff so check out some info below.
Songs: Ohia

Albums

EPs

1997 Hecla & Griper
1998 Our Golden Ratio (Acuarela)
2001 Howler (Absalom)
2001 Travels in Constants (Temporary Residence)

Singles

1996 "Nor Cease Thou Never Now" (Palace Records)
1996 "One Pronunciation of Glory"
1999 "Untitled" (Western Vinyl)
2002 "The Gray Tower"/"Black Link to Fire Link"
2002 "Keep It Steady"/"United or Lost Alone"
2004 "No Moon on the Water"/"In the Human World" (Chunklet)

Jason Molina

Albums

Magnolia Electric Co.

Albums

EPs

Collaborations

EPs

Singles

1998 "Nay, Tis Not Death" (Alternate) on split 7″ with Appendix Out (Liquefaction Empire)
1999 "Journey On" on split 7″ with Oneida (Jagjaguwar)
1999 "How to Be Perfect Men" on split 7″ with Rex (Temporary Residence)
2000 7″ single with Alasdair Roberts
2000 "Fade St." on split 7″ with Glen Hansard (Road Relish)
2001 "Lioness" (Version) on split 7″ with Scout Niblett
Jason Molina is currenlty signed to the fantastic Secretly Canadian label (hell, that's a great name for a label, by the way) which has a ton of tracks to get you started, such as:
Whether you consider him "Rock n' Roll" or "Alt Country" or simply "Great", there is such a library for Jason Molina recordings (as you can see above) that would span these descriptions.  There are especially a large amount of live performances floating around that I had to include a favourite solo performance from Columbia, South Carolina at the New Brookland Tavern from March 12, 1999 – frickin' awesome.  This recording is from the soundboard, so it is great quality, the "crowd" is a quiet at the right times so it is incredible.  I first posted a song from this set HERE and have included it again as it is great.
Well there you have it, massive amounts of downloads – more than enough to keep you going until you pick up every last one of the above…well maybe a few of them at least.
Visit Jason Molina:  Website, Label Site, MySpace.
~Smansmith