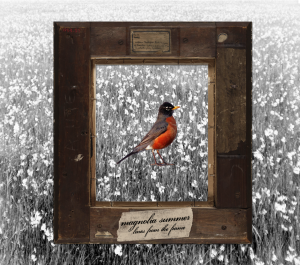 Hey, if you haven't heard…."Magnolia Summer"!   Welcome again kiddies to another installment of "If You Haven't Heard" and the band in question – Magnolia Summer.
This St. Louis based "rock" band (as they describe themselves) is a bit of a collection of friends that have been interchanged over the past few years under the moniker "Magnolia Summer".  The eye of this storm (does that make it sound bad?) is Chris Grabau and he is bringing the family back together for the 3rd and most recent release entitled "Lines From The Frame" out of the Undertow Music Collective stables.
The road Grabau and company travel is one that many of this ilk travel and Grabau's themes in song crafting have been described as "...expressing a Kerouac-like love for the journey more than the destination…".  While not a new concept to the genre, it is one that is tried and true.  This road of Americana recordings is one that one might find themselves traveling regardless of whether or not it is leading to a destination – but I guess that is the point previously made.  Enjoy the now, the journey, with your family of friends and some solid tunes as your soundtrack.  Why the hell not?
I have included two tracks from the new album below with the track "Diminished Returns" as well as the gorgeous "Bird Without A Wire" which has the assistance of Kelly Kneiser from the band Glossary.  It will do you good to check out the sister post over on You Crazy Dreamers for another great track "To Better Days" and it's Alt Country twang.  All tracks enjoy a bit of an electric tinged Americana – with flecks of strings and a full band flare – this might be the album that the entire cast of Magnolia Summer finally got together to create.
Side Note: You might also note that Magnolia Summer contributed to one of my favourite projects of 2008 and the "Of Great and Mortal Men" 3 disc collection – see my mention on it here.  Magnolia Summer joins in with Christian Kiefer on the track "William McKinley (Czolgosz's Dream)".
Visit Magnolia Summer:  Website, Undertow Music Collective, MySpace
Purchase an album at:  Undertow, eMusic and iTunes
*Bonus* – Enjoy the lo-fi session with Magnolia Summer below:
~Smansmith