Sometimes a photo can strike a chord in you and make you understand something that cannot be described (or at least is hard to put to words).  The sounds created by Beastheart can be best described in an image such as the below.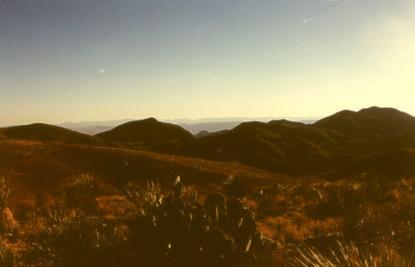 I don't know what it is about Beastheart, but they make me want to have worn out jeans that my "Pa" passed down to me (along with my Smith & Wesson M&P) and have lazy rides through the hills of Southern Texas.  I mean musically speaking at least.  Think of a gritty, kick-your-ass Calexico – then slap yourself for comparing it to an "indie" band.  Now we are getting somewhere.
I can't even say I found Beastheart all by myself, a little birdie in the Blackbird Harmony camp directed me in the direction.  You would think a guy from Calgary, AB, Canada is in tune with his Southern Mexi-rock roots.  Apparently not.  Well I have to say thanks to Ms. Blackbird Harmony for the tip, as this droned out psychedelic-Americana is hitting the spot this cold and dark Canadian winter.  Kind of a "High Plains Drifter" of the 2000's style soundtrack.
For a little background on the band, I have stolen this little excerpt from a bio on a recent performance (ahhh…last night actually!!  MonkeyTown in Williamsburg was lucky enough to have them) – so read a bit below:
Texans Michael Powers and Kyle Patterson initially formed Beastheart in early 2007 in Brooklyn as a forum for cooking BBQ and trying out their new songs on one another. It wasn't long, though, before the duo began playing out and in early 2008 fellow Texan Octavius Neveaux (bass/vox) and native-Brooklynite Mike 'Hooch' Vourlias (drums) came on board, helping fill out a brooding and haunted "lost on the plains" sound they've since been developing.
There is a full length coming out, but I am unclear on the actual date (hey guys, post in the comments when you read this!) of which I can highly recommend from the tracks I have heard already.  I have included 3 of those tracks that in my opinion show the sound and talent of Beastheart – you heard it here first and you will hear it again, trust me.
Visit Beastheart on: MySpace
~Smansmith