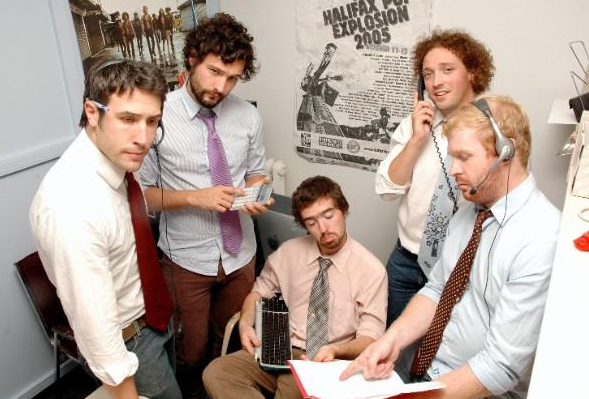 Share, the latest band I have found from Halifax, Nova Scotia is set to release their new album this August.  What is happening in the East Coast of Canada?   These people are ridiculously talented, it could be our version of Portland/Seattle, me thinks.  If I were you, I would start counting the days, as it needs to be on your must have list – hey, Polaris Prize folks…ideas for next year??
The new album (the band's third) was created from the essence of Andrew Sisk (vocals, guitar) with Nick Cobham (guitar, vocals), Kyle Cunjak (bass, vocals), Dennis Goodwin (synth, guitar) and Zach Atkinson (drums) when they retreated to a cabin in the backwoods of PEI (Prince Edward Island for you non Canadians) with producer and Slowcoustic favourite Daniel Ledwell (In-Flight Safety & awesome solo stuff).  This was a new experience for the group who now find them as such…an actual group instead of a part time project they were all working on, see below description from frontman Sisk:
"We wanted to make an album that captured Share as a band," claims Sisk. "It was the first time that Share was a band rather than a recording project so it was an entirely different process."
My first experience with Share was their "Ukelele Tragic" album – a bit more of a lo-fi affair by title alone.  While a pretty darn good album in its own right, the new album shows a lot of growth to a band and possibly more "mature" sound.  Whether that is something you are looking for or is something that doesn't mean anything to you, Share are growing and you should take the trip along with them.  From the beauty of "Maybe and Always" with fellow East Coaster Jenn Grant to my current favourite "Horse & Rider" and back again to a great lead off track with "Penmanship", this is one to watch folks.
Check out some dates for the band (starting TONIGHT):
June 15 – Toronto, ON @ The Cameron House w/ Julie Fader
June 16 – Kingston, ON @ The Livingroom
June 17 – Ottawa, ON @ Mavericks w/ Grand Theft Bus, and The Olympic Symphonium
June 18 – Toronto, ON – NXNE @ Clinton's w/ Grand Theft Bus
June 19 – Calgary, AB @ Dickens w/ Grand Theft Bus, and The Olympic Symphonium
June 20 – Canmore, AB @ The Canmore Hotel w/ Grand Theft Bus
June 22 – Banff, AB @ Rose & Crown w/ Grand Theft Bus
June 23 – Kananaskis, AB @ Woody's w/ Grand Theft Bus
June 24 – Edmonton, AB — The Brixx w/ Grand Theft Bus
June 25 – Jasper, AB – The Athabaska w/ Grand Theft Bus
June 26 Vancouver, BC – Jazz Festival @ The Media Club w/ Grand Theft Bus
August 6 – Montreal, PQ @ Cagibi
August 7 – Toronto, ON @ Cameron House
August 8 – Kingston, ON @ The Artel
Visit Share on their Forward Music Group Page, Website and MySpace page!
~Smansmith