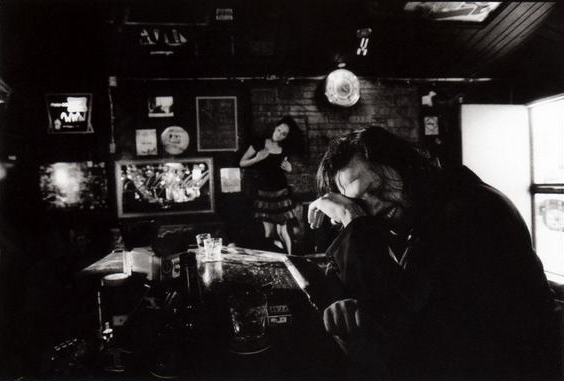 "The heart of a cur keeping time with her bedroom eyes." ~JLL
The upcoming album from Jeffrey Luck Lucas entitled "The Lion's Jaw" should be out any second and from the few tracks I have heard it is going to be another incredible album.  This is a top album in the "looking forward to in 2009" for me and am glad it is about to surface.  Why this guy isn't more famous, is beyond me.
Yes, I am being purposefully vague about the release date for the new album as it has not "officially" been set yet, but I have good authority that it will be available within the next couple of weeks.  The music industry can be an enigma in itself and a lowly music blogger simply wants the end product of a great album.  This particular great album cannot get here fast enough.  If anyone is familiar with Jeffrey Luck Lucas you will know that there is a theme/feeling/aura surrounding the work of Lucas: one of solitude, trying times and ultimately a mixture of hope amongst bleak times.  In going back and forth with Lucas (as you will see below in the interview), he is conscious of this mystique he conjures with his talent.  One that draws me like a moth to a flame, not blindly, but just something that consistently brings fulfilling music – not the one hit wonders or smash and grab singles that circle the world of music these days.
Lucas has 2 previous albums to date of which both come highly recommended for lovers of the sombre almost Americana crowd.  I say almost as his music floats around many genres but doesn't make its home in anything specific – It has essence of a Matthew Ryan's melancholy, Leonard Cohen's storytelling and delivery.  I used those two artists as one brings to mind a mature established performer with the other bringing something more modern down-tempo, the blending of it all gives you a great idea of what Jeffrey Luck Lucas provides.  Another way to put it is to let you know the titles of the two previous album "Hell Then Divine" and "What We Whisper".  So you get an aching performance of the down trodden with that glimmer of redemption only moments away (all the while being aware of oneself and being awake to some humour of it all).
Well, if I can say one thing, it is "The Lion's Jaw" is going to be another notch on this troubadour's belt and should make it's way to your collection…soon.  Let's dig into a bit of "Q & A" with Jeffrey Luck Lucas.
~~~
1. Who is Jeffrey Luck Lucas – introduce yourself to our readers – and is "Luck" really your middle name?
"Luck" is as real a name as any of mine, in my opinion, though I wasn't born with it. I was christened with the name around a pool table in a great long-lost dive bar. It had a nice ring to it so I let it stick. I don't know how to introduce myself. Maybe we'll let the music do the introducing? I mean, it's all there.
2. We are big fans here at Slowcoustic/You Crazy Dreamers and me especially as I am a jokingly described as a fan of "sad bastard music" – is this how you would describe your music?
Thank you… I do appreciate the support and encouragement to keep doing the dirty work. Though I do encourage others getting dirty with me.

I would say that the music is created by a sad bastard, but it isn't all sad (and neither is the bastard). I think there's a lot of beauty and humor drifting alongside all the emotional wreckage and debris. Not to mention sex and violence.

I think as more recordings surface the story will become more complete. It is definitely a living voyage that just happened to begin with a funeral march.
3. Now releasing your third album "The Lion's Jaw" – When is it being released, where can we get it?
THE LION'S JAW will be released soon, this month I believe. It has been horribly delayed. The only bright side being that I've basically finished the fourth album (which I'm really really excited about) and that should be coming out this year as well. I don't have a title yet, unfortunately.

You should be able to get THE LION'S JAW soon on iTunes and other online electronic distributors. We will also be doing a limited run of vinyl and CDs that will be personalized, numbered, etc. And it will have it's own European label/release as well.
4. What were some of the things that lead to or assisted in the creation of the new album?
A sense of growing strength. An ability to face the present with clear vision. Working through an emotional backlog. Being comfortable in the skin of the night. Giving-up black and white ideals. Coming to terms with never coming to terms. Eroticism and passion in the midst of hell. And new sources of inspiration from my friends and loved ones. From their music. And Desmond Shea's co-vision… his ability to find diamonds in my bullshit. [please edit this at will]

I really view THE LION'S JAW as a door. It marks the end and the beginning, depending on which way you're heading.
5. You are more than a "guy with a guitar" – you are known as a trained composer & cellist, how do these integrate into your albums?
I tried to plaster as much of my self and my vision as I could on these records. I love doing arrangements and playing any and every thing I can. I record demos for every song, playing all the instruments. I learn so much from doing that. BUT… now I've found some guys who've living the music with me… and they're bringing something… so I think the next records will be a little less claustrophobic… more accessible in a purely collaborative/spiritual way. Jesus, did I just write that?
6. Any upcoming shows, festivals that you are appearing at – where can we see ya?
Well, we've been working hard to get a strong band that can handle the music, so you should be seeing us over the next few months. You have to let the record simmer for awhile before you go out to lose money in support of it. Seriously, though, we'll be in Europe late Fall/Winter and start from there.

I'll also have a pretty full schedule playing cello and other things with other artists like KIRA LYNN CAIN and JAMES FINCH JR. this Summer and Fall.
7. Who are artists that you have toured/worked with that have influenced you?
TINDERSTICKS, JOHN DOE, ALEJANDRO ESCOVEDO, THE WILLARD GRANT CONSPIRACY come to mind, as far as artists I've shared the stage with. My bandmates, JUSTIN FRAHM and JAMES FINCH JR. are amazing songwriters, along with KIRA LYNN CAIN. SEAN COLEMAN (now of Dublin, Ireland) is an amazing musician and an inspiration. And we wouldn't be here talking if it weren't for DESMOND SHEA, producer, engineer, 5th Beatle, etc. I'm probably missing a dozen or so. What the hell…

As far as influences that I haven't had a chance to work with or share the stage with, I would say LOU REED, SERGE GAINSBOURG, SCOTT WALKER, NICK DRAKE, NICK CAVE, LEONARD COHEN, JOHNNY CASH, LAMBCHOP, IGGY POP, ITALIAN FILM MUSIC, etc. etc.
~~
There you have the great insight of JLL and please consider frequenting his sites to find the new album once released.  Prior to that, you can pick up a copy of "What We Whisper" (iTunes and CD Baby) and "Hell Then Divine" (iTunes and CD Baby).
You can also visit Mr. Lucas over on his Website and his MySpace page for updates on the new album.
~Smansmith