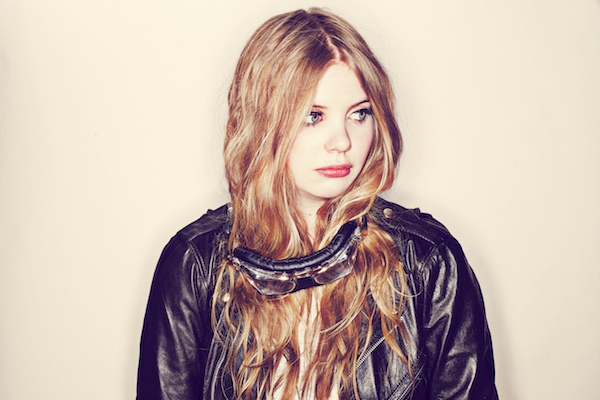 Today sees the local release of Samantha Savage Smith's "Tough Cookie", and I think this is one of the most anticipated local albums in a long while.  I think this statement can't be more true after a few listens (I admittedly have only listen 3 or 4 times) – the album travels generations and genres in the span of 49 minutes.
While many around the world are highly anticipating Calgary albums from artists like Chad VanGaalen and Women, they are going to need to start to share the world stage soon.  The album "Tough Cookie" has been in the making for some time, but songs have been circling for a while during the finalization of this album.  The songs below from her Bandcamp page just might not be the actual versions as the final album feels a bit more polished all around.  There are the classics I have been listening to for a couple of years (The Fight) and some that I have been listening to on a regular basis for at least 6 months (albeit without the final touches).
The album is immense, loud & a bit brash at times, then soft and soothing the next.  This 24 year old has put together songs that still connect while being diverse and I find each song can even stand alone in texture and feel…as they each glide through our Rocky Mountain air.  Don't worry, non-Calgarians will also agree, that voice can't be stopped by any location.  That leads me to something that often is the focal point of many overviews of Savage Smith and I won't deny that I sometimes feel a bit dated saying it.  But now that I have been listening for a while, it really can't be denied.  The voice of this woman is soo distinct & powerful it would be a shame to overlook the obviousness of it due to it being so, well…fantastic.  Her deep and powerful (almost out of body) vocals polish off all of these songs, it is the sometimes missing instrument in almost any other band.  Her voice sounds older than her 24 years on this earth could even possibly ever have hoped to have created.   It reaches back to classic crooners in smokey cabarets…albeit as long as those cabarets had a little bit of bite.
I admit I find myself almost partial to SSS…maybe because she is local, but it might be because she seems like such a great individual.  After seeing her perform 3 times last summer at the Calgary Folk Fest, as well as sitting down with her to talk to her a bit, she seems like such a down to earth person…except she is creating this immense and catchy music on the side.  So, please ignore any fawning, the album is good and not just getting the local shine.
Slowcousticals can enjoy songs like You Always Come To Mind, Devilman, The Fight & Good of Goodbyes.  For a bit of down tempo/summer pop, you can enjoy a song like 1000 days or The Hats.  Overall the album seems a bit gritty, at 3/4 speed and I dare say a bit sexy in a late night whiskey induced nightclub sort of way.  The album, not unlike Samantha Savage Smith is more than a little bit intoxicating.
The album really took off into becoming reality after local staple Lorrie Matheson (visit) started listening to some of the many demos from Savage Smith.  She was getting a bit of a well deserved buzz in the local scene and Matheson heard the potential immediately.  The album was completed in late 2010 and found the backing crew of Chris Dadge, Scott Munro and Brooker Buckingham (who have lent their talents to recordings and live shows by Chad VanGaalen, Rae Spoon, Ghostkeeper, Fake Cops and Woodpigeon).
Listen to a couple of tracks below:

~

~

~
**The album gets it's local release TONIGHT at The Palomino Club (see here) and you will even get to hear another local hero on the bill, SAVK (see a quick post on him here).  This is truly a great line up of local talent and you will even get a chance to purchase the new album at the show!  Unfortunately at the moment I only know of her Bandcamp to purchase the album or individual tracks, but hopefully that will expand very soon!
UPDATE: Locals can purchase the new CD here in Calgary at Hot Wax, Sloth Records and Melodiya and if you are not local, you can email me and I can pass on the information about ordering direct (PayPal required & $15.00 which includes shipping worldwide).  <— get on it!
Please visit Samantha Savage Smith on her Bandcamp Page & MySpace page.
~Smansmith
p.s.  Bonus video that I LOVE from the good folks at Shot At The Dark:
SHOT AT THE DARK – Samantha Savage from Shot at The Dark on Vimeo.