A Friday Recommendation here for all you blog readers not scouring for the latest secret show overview from Austin (I'm not bitter about SXSW, not one little bit).  This album has just had a bit of a low key release and I want to make sure you all get your chance to listen to it as it shouldn't be overlooked.
~~~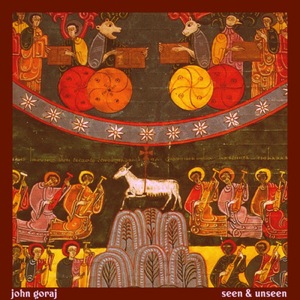 John Goraj is no stranger around here as his previous album "Possible" found some love with us and we even had a track from John on our last label compilation release (find that gorgeous song "One More Winter" here).  We also did an interview with John along with providing a few samples from "Possible" back in 2009.  So it is a no brainer that his new album gets a recommendation as well!
The new album "Seen &Unseen" is 12 tracks of winding laments and almost majestic listening.  While it is in the folk realm, it feels like soo much more – the guy pours his heart into his music – not that others don't, but it is immediately noticeable in John's prose.  He takes his time and gets it right.  In fact me and John have been going back and forth on this album for months now and I know he has taken his time and perfected his vision for "Seen & Unseen".  Songs like "Resting Place" and "We Were Just Kids" bring a sense of familiarity and comfort – almost like his music is his introduction of himself to you and after a few plays, you might know him more than you think.
He is offering a free track in the album opener Horse and Home but I thought I would also post the closing track Prisms as it is truly a stunning listen.  I think both songs represent well what you get with Goraj, beautiful instrumentation, earnest lyrics/delivery and something that sticks with you as a piece of work as opposed to what we so casually call an "album".
Find more from John Goraj: Facebook | Bandcamp | Website | iTunes
~Smansmith