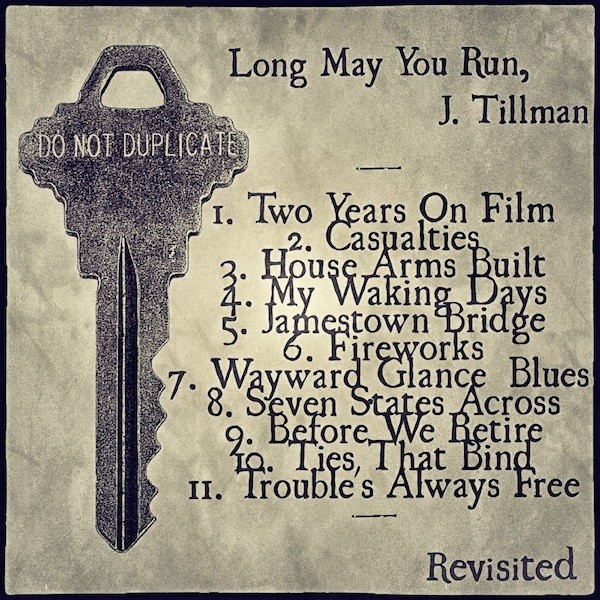 Great albums and cover songs/tributes. Always a slippery slope and one that I have taken on. By "I/me" I don't mean I have recorded anything, heaven forbid I actually have any sort of musical talent but there are more than a few musicians who do. More than a few of those musicians agreed to pay homage to the album Long May You Run, J. Tillman by the artist formerly known as J. Tillman.
I have a page set up for this cover project (HERE) that will catalog all the tracks as they get posted here on the blog. I wouldn't want you to hunt through various posts, but have one spot that conveniently will have all the covers. And there are a lot of them. I have had a great response for this project and it looks to have each song covered twice (and some three times). The songs will be rolled out starting today and will continue after the weekend on Monday with more each and every day. ALL next week is J. Tillman covers!
If you are not familiar with this album you need to be. If you don't necessarily like the album, you might need to find a new blog (for the short term at least) as I will be basking in the album. Original and cover versions. I am starting out with 3 covers that I thought to myself might be a "band" version of the song, a "2010s" version of the song and one that maybe keeps it true to the original. A great little spread if I had to say.  Let's start with a full band, Greater Pacific covering my all time favourite Tillman track – Casualties.
How good is that? More Info on Greater Pacific: yerbird.com/greater-pacific/ | facebook.com/GreaterPacific
~~
Now the modern day folk (if you will) cover via Andy Oliveri with his version of My Waking Days.
More Info on Andy Oliveri: facebook.com/andyoliverimusic
~~
And finally we have Pilots & Errors with his version of Fireworks.
More Info on Pilots & Errors: facebook.com/pilotsanderrors | pilotsanderrors.bandcamp.com/
~~~
Thanks to Greater Pacific, Andy Oliveri and Pilots & Errors for launching 'Part I' of this cover project! Visit them and thank them personally.
So remember: Long May You Run, J. Tillman Revisited Page
You can find the original via iTunes: itunes.apple.com/us/album/long-ma…lman/id283854171
A reprint on CD can be found via Fargo Records in France: fargostore.com/mod/p_disque.ph…article_id=2841
More covers continue on Monday, February 25 through Friday, March 1st!
~Sandy (Smansmith)