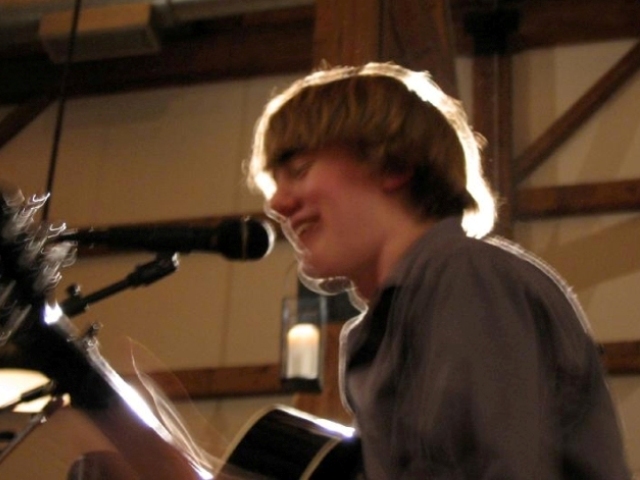 So Carl Hauck is the future, eh?  Not to be dramatic, but someone who knows his way around an acoustic guitar, skillfully writes songs that one can relate to and is a soon to be educator…what else would you call him?
Carl Hauck is currently a senior at the University of Illinois, and I am sure he will be strong leader of our youth one day (major – English / minor – Education), but it is his talents outside the classroom that has brought him to Slowcoustic.  This Grayslake, IL native combines a range of toned down acoustic guitar with a slight finger-picking style to his polished voice.  You get a bit of flexibility on Carl's delivery of what I am sure are his well thought out story-lined songs.  I think his comments to myself really reflect on him and his style of songwriting;
"As a songwriter, I try to avoid confessional lyricism.  Although honesty is often cited as being a fundamental aspect of great songwriting, I consider the songs that are self-aware, that reflect a degree of psychological tension, that don't confine themselves to a single voice, to hold more truth than those that delve blindly into extreme emotionality."
For the sounds that might be the medium to the message here, take a listen to two tracks from his 2008 release "Counter Intelligence" to get an idea of what I am saying – "Milt the Stilt" is a solo affair with that polished delivery (performed "just a half register higher" than normal) while "Herrick, You Devil!" brings what I feel is his "real" voice out with great girl/guy harmonization (I apologize for not knowing her name, but the two mesh perfectly).  "Herrick…" is truly a gem and a current favourite with the darker feel and the ominous far off guitar that really hits the mark.
Check out upcoming performances: Pygmalion Music Festival (!!) in Champaign-Urbana (Sept. 17-20); Also, a condensed tour through the Midwest (MO, KS, IA, MN, WI, IL) with Todd Reese in November.
Sample two tracks from the "Counter Intelligence" (no pun intended) below – the album can be purchased on his website (linked above) or via iTunes.  Enjoy.
~Smansmith