AHHHHH, SXSW Emails!  Okay fine, this one I will post as I think the song is pretty darn kick ass.  For once I get a nice little Slow and Acoustic track recommended.  I think they hit the target market here.
Eulogies is not exclusively Slow and Acoustic, but the song of the night sure is, and I am smitten.  While the track is not their signature sound, as they seem like more of a traditional Indie rock style band (have we gotten to the point where one can type "traditional indie"??) it is just right for a Wednesday night at Slowcoustic HQ.
"The Fine Progression is from the Homespun Session and is more of a stripped down acoustic session of the band's material.  Click the album cover below to visit the band on their Website – pick up another track with the small fee of your personal (or temporary) email address as well.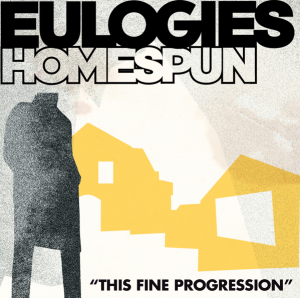 Visit them on MySpace and their Label site – keep an eye out and you just may find their new album "Here Anonymous" in the next little bit (April 7, 2009).
~Smansmith