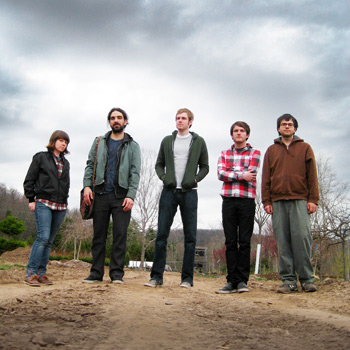 So as I mentioned earlier, I keep getting reminded how much Lewis & Clarke sneak up on me and just captivate me.   Once again, they do so.
Late last year I had a bit of back and forth with Lou Rogai about putting a post together.  Things got busy for both of us, L&C was getting ready to put out another release and it got away from us.  I thought I would get this out there along with a great track from their stellar "live at WPRB" EP from a few years back.  That particular release which provoked my renewed interest was originally a "live only vinyl" but is readily available via online digital stores/label website and is a must have for Slowcouticals.
Well onto the interview.  Honestly to call the below an interview might be a stretch, but see below for a few questions with Lou Rogai of Lewis & Clarke.
~ With your sound it seems so complete and whole with the vocals, harmony and music – do you work out a song all at once (combining the 3 aspects) or do you have a sound that you feed lyrics to or Lyrics that need a soundtrack?
I wish there was a formula like this, because I would be churning out the buttery jams at a rapid pace. There's no real method, though. It's all so random. The ingredients are random bits. Sometimes I am humming a tune while walking, or doing dishes. Sometimes it's a guitar line I stumble upon while spacing out on my porch late at night. There are always paper scraps in my notebook with little poems or lyrical ideas. These things somehow always attract each other, and I am there to help them along, the ideas I mean. It's all bits that are meant to be together, I like to think of it that way. I don't have the time or discipline to sit down and say "Ok, it's songwriting time, this one's going to have a 3/4 tempo and it's lyrical theme shall be mystically obtuse".
~ How did the "Perfect As Cats: A Tribute to The Cure" come about – and why did you select (or did you select?) the utterly amazing "Disintegration" as your cover?
Paul from Manimal Vinyl was the mastermind behind the album, and I immediately secured that song when he asked me to contribute. It's a undertaking, but it was obviously mirroring exactly what was going on for me personally last summer. And that track has haunted me for years. I ordered Disintegration through the CD mail order club I belonged to when I was a kid. Some older Goth gals (Thanks Jenn and Deanna, wherever you are!) had made a mix for me with early Cure that I loved. That whole album affected me, especially that song. I used to light candles and lay in the dark with headphones for that one. The breaking glass in the intro, and the repetition, I felt like I had a kindred understanding of what Robert Smith was feeling, stuck on some sort of spinning wheel and displaying intense emotional weirdness, although most of the subject matter I would not relate to in a deeper way until much later.
~ You mention new album, what is the story, date, tracklist, departure from "Blasts.." or "Bare Bones…" or continuation?  New projects, do tell???
Light Time (which is a 12″ vinyl EP) has just seen the light of day, and I am now working on material for a new full length. Some of Light Time's tracks could have been included in the upcoming batch, but it seemed that they were framed by a certain time period, and with just reason. They fit a vibe all of their own. I am most recently creating sounds with Karen Codd (cello), brothers Ian and Shane O'hara (double bass and drums), and of course Tom Asselin (atmospherics). Each player is contributing their own unique stylings. We'll be touring the US with Caroline Weeks this summer, starting July 24.
So, there you have it, a little insight to a few projects and on how the sounds are created and eventually shared with us all.  Speaking of sharing, after checking out the track below, head over to the label La Société Expéditionnaire to pick up an album, it is well worth it.  If you must start somewhere, the Live EP is great, but don't miss out on "Blasts of Holy Birth" and "Bare Bones and Branches" full lengths.
Visit Lewis & Clarke on their Website and MySpace, and follow them on twitter – @Lewis_Clarke.
~Smansmith